Cooktop and Stovetop Maintenance Service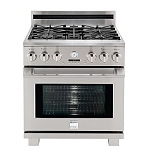 Why Range and Oven Maintenance?
We know appliances – and we also know it's the peak season for cooking appliance breakdowns. That's why the Blue Service Crew recommends range and oven maintenance service now so that you have cooking confidence later.
We service all brands, and we stock replacement parts for more than 10,000 gas and electric ranges — from free-standing and built-in with microwave combos, to slide-in, drop-in and counter units. We also service range hoods and microwaves.
What we do for Range and Oven Maintenance service:


Inspect the electrical system for proper ground and secure connections.
Check the readily accessible wiring insulation for cracks or peeling.
Check the oven controls for accurate temperature.
Check the oven door and door gasket for proper alignment.
Level the range as needed.
Check and adjust the clock/timer as needed.
Test the self-cleaning lock mechanism.
Check the electronic controls to ensure proper function.
Check the surface, oven burners and elements.
Test the gas line and connections for leaks.