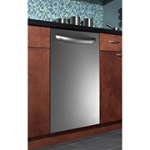 Why Dishwasher Maintenance?
Washing dishes by hand because your dishwasher is broken is never fun. Neither is rewashing dishes that weren't cleaned in a malfunctioning dishwasher. Avoid both situations with professional dishwasher maintenance by our Sears Blue Service Crew. Our nationwide network of local experts will conduct any necessary maintenance to keep your kitchen safe from leaks and electrical problems, so you can save money on costly repairs down the road.
What we do for Dishwasher Maintenance service:
Check pump and motor shaft for leaks.
Clean pump and spray arms. Check water distribution.
Check and clean dispenser operation.
Check heating element.
Ensure correct amount of water enters the dishwasher.
Check door gasket to prevent leaks.
Level dishwasher as needed.
Inspect electrical system.
Check warming drawer operation and alignment.