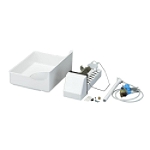 What We Do for Icemaker Repair
The Sears Blue Service Crew has thousands of repair technicians nationwide. Our local pros receive ongoing training and have access to millions of repair parts for the most popular ice maker brands.
We're just a call or click away! Schedule your ice maker repair service appointment online or call us today. We can repair all major ice maker brands, including Kenmore, KitchenAid, and Whirlpool.
What We Do for Icemaker Repair
When you make a service appointment with the Sears Blue Service Crew you can expect us to:
Connect you with over 10,000 service specialists
Call before we arrive
Give you an estimate before we begin work
Fix it right the first time
Guarantee our work
Paying for In-Home Repairs is Easy
Our Repair technicians will process payment and any coupons or discounts at the time of service.
We accept all the major credit cards as well as many Sears gift and club cards.
We also accept cash and check
We Frequently Repair Icemakers in
Sears Blue Service Crew pros can get your in-unit icemaker repaired in plenty of time for you to chill.  Our work is guaranteed. After all, we've got the specialized service you deserve, and we're right around the corner.
Related Services
BROWSE OUR EXPERT ANSWERS
More ways we're here to help.