Stand-alone Icemaker Repair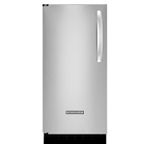 What We Do for Stand-alone Icemaker Repair
Call before we arrive
Give you a stand-alone icemaker repair estimate before we begin work
Fix it right the first time
Guarantee our work
We accept Sears Card, Sears MasterCard, Sears Gift Cards, Visa, MasterCard, American Express, Discover Card, cash and checks for all in-home repair services. Our repair technicians will process payment and any coupons or discounts at the time of service.
Have a warranty or Protection Agreement? Then you are entitled to free support from our Technical Specialists. Call 1-800-424-2047 for help to get your product working again and to schedule an in-home repair visit, if necessary, to make sure your product gets fixed right. Technical Specialists are available from 7 a.m. until 10 p.m. CST every day.
Home Services now qualify for Rewards points!
Chill out. Our Blue Service Crew pros will fix your icemaker in almost no time flat. We're the nation's largest repair outfit, and we're right around the corner!
** Offer ends 1/31/14. 10% off the regular price of your next In-home repair service (parts and labor). Not applicable to prior purchases or ServiceSmart agreements. Not valid in conjunction with other coupons, tech-add on or preseason specials. One discount per purchase. Present this coupon to receive discount.  ©2013 Sears Brands, LLC. Tech: Enter code H1144. ±
Click here for Home Services licensing information
.
BROWSE OUR EXPERT ANSWERS
More ways we're here to help.