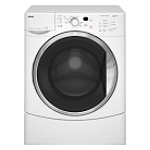 Why Laundry Maintenance?
Your washing machine uses up to 40 gallons of water with every load, and your dryer works just as hard. Wear and tear can keep your clothes from getting clean, and dryer-vent buildup can cause dangerous fires – or damp laundry.
So keep your washer and dryer working right with expert laundry maintenance every year from Sears pros. Our veteran experts will check for problems before they start, calibrate your equipment for better performance – and make sure your clothes keep coming out clean.
What we do for Laundry Maintenance service:
Washing Machines
Check fill cycle and water temperature for wash settings.
Ensure correct pump out in spin cycles.
Check for excessive noise and vibration during spin cycle.
Check timer for correct operation.
Inspect belt for wear and adjust tension (belt drive washers).
Check clutch adjustment and spin speed.
Inspect electrical system for proper ground and secure connections.
Check tub and hoses for leaks.
Check drain pipe or laundry tub.
Inspect motor coupling for wear.
Check level of machine.
Check fill and drain hoses for proper connection.
Check air dome for debris and pressure hose for secure fit at pressure switch
Dryers
Check the rear drum seal.
Check the drum belt, idler pulley and support rollers for wear.
Check exhaust system for leaks.
Cycle check the burner for proper ground and secure connections.
Inspect electrical systems for proper ground and secure connections.
Check thermostat temperatures.
Check time for correct cycle operation.
Check gas line and connections for leaks.
Check machine component functions by operating dryer through short cycle.
Check level of machine.
Clean dryer.